1. PC Hardware
1.6 Install and configure PC expansion cards.
Sound Cards: A sound card is an expansion card or integrated circuit that provides a computer with the ability to produce sounds that can be heard from the computer speakers, external speakers, and headphones. Sound Cards can also be referred to as sound board or an audio cord. A sound card allows you to have a better quality of sound, so that the sound coming out of the computer is clear. the point of the sound card or its function is so that you are able to listen to music, watch movies, audio conferencing, using it for presentations and many other things that we use sound for. There are two main ypes of sound cards, PCI and ISA.
Graphic cards:A graphics card is a major component of a PC and it generally consumes more power compared to other components. Entry-level graphics cards draw their power from the PCI Express x16 slot only but high-end graphics cards require external power from the PSU for their working. The external power for these high-end graphics cards come from the 6-pin and 8-pin PCI-Express power connectors from the power supply.
Video cards: A video card is sometimes called a graphics card, graphics adapter, display card, or video controller. It is a piece of hardware responsible for processing any graphics generated by the motherboard and transmitting them to the display unit. It is like a circuit board that fits in a slot on a computer's motherboard. The monitor plugs into the socket on the video card and on the backside of the computer. The board consists of a special electronic circuit consisting of a graphics processing unit and a visual processing unit as well as a heat sink to spread out the heat produced. Other components of a video card are video BIOS, video memory, RAMDAC, video graphics array, digital visual interface, HDMI and display port. The video card controls display factors such as resolution, colors displayed, and the speed of the images displayed. However, sometimes video cards are integrated directly into the motherboard or CPU, which are called integrated or on-board cards.
PCI Express x16 connector: Every modern-day graphics card comes with a PCI Express x16 connector that goes in the PCI Express x16 slot of your motherboard. PCI Express x16 connector connects your graphics to the motherboard and is the only interface through which communication happens.
A PCI Express x16 slot can provide a maximum of 75 Watts to the graphics card which is enough for entry-level graphics cards. Even some mid-range graphics cards can also work on the power from the PCI Express x16 slot alone but higher mid-range graphics cards and high-end graphics cards require external power from the PSU through 6-pin or 8-pin power connectors. You can see these connectors below:
In fig b below you can see a typical PCI card, pointed out an alignment notch (A), this is used to align the card with the slot and take a look at the slot in fig a you can see how it is aligned with the card.
Network Cards: The figure shows a typical network card with RJ45 is a type of connector (not visible, though), commonly used for Ethernet networking. Network cards come in two main categories, 1) wired and 2) wireless.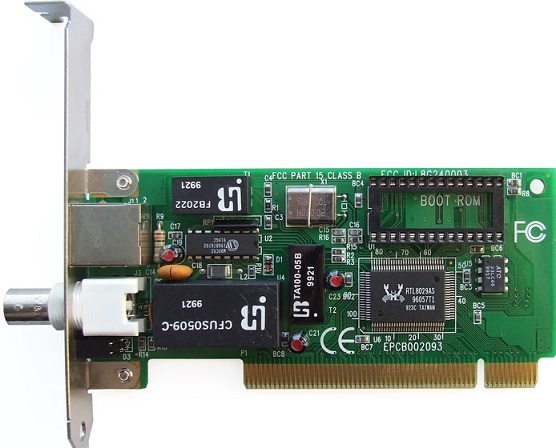 Wireless NICs need to use wireless technologies to access the network, so they have one or more antennas sticking out of the card. You can see an example of this with the TP-Link PCI Express network card.
USB cards: USB card actually is a pretty easy one. One simple has to open up the computer, making sure it's completely power off and the cord is unplugged. Then one can simply look for the manual guide to see where the USB cards can be attached. After it is done, restart and look for the drivers using the device manager or the windows update.
USB devices are Plug and Play devices, so there is little that you can do to control or configure them. Windows usually detects devices when they're plugged in and, if necessary, installs drivers. The most commonly used port for connecting digital camera to a desktop computer is USB port, though older cameras used serial port. Most PCs see a Camera as mass storage connected to USB port.
If your USB does not work after you plug it in, it's probably because of one of the following causes:
Windows can't find a driver for the USB device. When hardware attached to a computer doesn't work properly, it's often because of a driver problem.

When you plug in a USB device, Windows automatically identifies the device and searches for a driver.

If Windows can't find the driver, it will prompt you to insert the disc containing the driver that came with your device.

Windows doesn't recognize the USB device. Before Windows can find and install a driver for your USB device, it must be able to correctly identify the device.

Occasionally you might have a USB device that Windows doesn't recognize and that did not come with a disc containing a driver. In this case, you can look for a driver on the device manufacturer's website.

You can often download drivers from the support section of such sites.

After you find a driver for a device that Windows cannot identify, you will have to install the driver manually.

Look for an ejector button next to the PC Card slot. On some systems, the button is folded into the unit for storage. Unfold the button and remove any connected cables or dongles from the card.
Firewire Cards: The Firewire cards are connected to the PCI board. One would have to install and configure it all by himself. As it's understood, like all other hardware's, this hardware also has to be installed with screws and has to be planted in the motherboard. Also, the devices can be searched for it using the windows update.
Storage cards: A flash memory card (sometimes called a storage card) is a small storage device that uses nonvolatile semiconductor memory to store data on portable or remote computing devices. Such data includes text, pictures, audio and video.That is often used to store photos, videos, or other data in electronic devices. Devices that commonly use a memory card include digital cameras, digital camcorders, handheld computers, MP3 players, PDAs, cell phones, game consoles, and printers. The picture is a MicroSD flash memory card, which is one of the types of memory cards available.
There are a different types of memory cards , each varying in size, compatibility, and storage capacity. The most commonly used types of memory cards are listed below.
CF (CompactFlash)

MicroSD

Micro SDHC

Mini SDHC

MMC

SD Card

SDHC Card

SmartMedia Card
CF (CompactFlash): Short for CompactFlash, CF is a 50-pin connection storage device. CompactFlash is a storage medium commonly found in PDAs, digital cameras, and other portable devices.
Micro SD: Alternatively referred to as T-Flash or TransFlash, MicroSD is a small removable flash memory card that was first developed by SanDisk
Mini SDHC: Short for Secure Digital High Capacity card, the SDHC card is an improved version of the standard SD card with a storage capacity up to 32 GB
MMC: Short for MultiMediaCard, MMC is a memory card available as flash memory and ROM used in car radios, cell phones, digital cameras, PDAs, MP3 players, and printers.
SD Card: Short for Secure Digital card, the SD card is one of the more common types of memory cards used with electronics. The SD technology is used by over 400 brands of electronic equipment and over 8000 different models, including digital cameras and cell phones. It is considered the industry standard due to the wide use.
SDHC card: Short for Secure Digital High Capacity card, the SDHC card is an improved version of the standard SD card with a storage capacity up to 32 GB.
SmartMedia card:The SM (SmartMedia) card is a type of flash memory card. It was one of the first memory cards to be produced and used in digital cameras, and other electronic devices.
Riser card: A riser board is a circuit board that gives a computer motherboard the option for additional expansion cards to be added to the computer.
AMR slot: AMR stands for Audio Modem Riser. AMR is a riser card that supports sound or modem function. With increasing CPU computational power, the digital processing job can be implemented in main chipset and share CPU power.
CNR slot: CNR stands for Communication Network Riser. CNR is a riser card specification that supports V.90 analog modem, multi-channel audio, phone-line based networking, and 10/100 Ethernet based networking. The digital processing is implemented in main chipset and share CPU power.